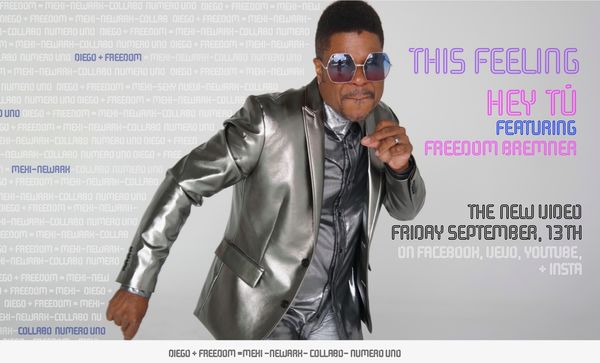 NOTE:  The new video for "This Feeling" Hey Tú, featuring Freedom Bremner,  premiered Friday September 13th on Youtube, VEVO, Facebook, and Houseofreedom.com at 7:00 pm EST.  The response to "This Feeling" has been tremendous!  Truly.  More on that later. Thank you to everyone who logged on for the chat before hand and shared their comments and well wishes. It was great to share that moment with you.
About a year ago, I got a call from a producer in Mexico City named Diego Infante.  He wanted to know if I would collaborate on a a 90's-style dance track with his new project , Hey Tú.  He sent me the track, I really liked it from the moment I heard it, and from that point on, all kinds of things got in the way, and it took months for me to actually put pen to paper, voice to microphone, and craft some lyrics and melodies. I had a lot going on in 2018....  I got married for one thing ,and all kinds of other good stuff  happened too...Anyway, the song finally came together.  When I was done writing, II called the song "This Feeling".   
Diego told me he wanted us to make a video together.  He had a concept that I would shoot  some location shots in the U.S. and he would shoot in Mexico City.  Then, he would put it all together.  I had no idea what else Diego was filming in Mexico, and I had no idea that he enlisted his brother, dancer and choreographer, Sebastian Infante,  and that there was a dance concept that they were shooting in Mexico as well.   When I saw the full concept, and how brilliantly Diego had put the entire video together, I was amazed.  Diego is not only a super producer, writer, guitarist, and multi-instrumentalist, but a truly gifted director and video editor.  I just recently learned that he comes from a kind of first family of Mexican film stars and singers, like the Barrymores or the Caradines in the U.S.  It's kind of crazy. The Infantes are famous actors, singers, and artists on both sides of his family.  I think it's part of the reason he thinks so conceptually about his music,  beyond the song to the visual presentation.  Acting is what brought me to New York, and I have always seen a visual storytelling component to my music. So working with Diego was one of the easiest most natural collaborations I've ever had with another artist.
Diego originally wanted to capture me walking through a variety of neighborhoods, with different energies, architecture, and people in the background. By sheer coincidence, one of the only free days I had to shoot my scenes happened to be Pride Week 2019.  At my wife's suggestion , we decided we would shoot on 5th ave, at the Pride Day parade, June 30th, right in the thick of it.  IT WAS AMAZING!  The energy of the day,  made the shoot magical. I think it comes through in the scenes.  Pride Day 2019 was kind of amazing for me. As a first time participant, in any Pride Day celebration, Pride Day 2019, felt like the culmination of all of our country's civil rights struggles and victories manifest in this one massive celebration of pride in one's self, one's individuality, one's history and culture, one's right to be who you simply are. The group is called Hey Tú and the song is called "This Feeling". "This Feeling" is love. 
Rock on everybody, 
Free