English translation: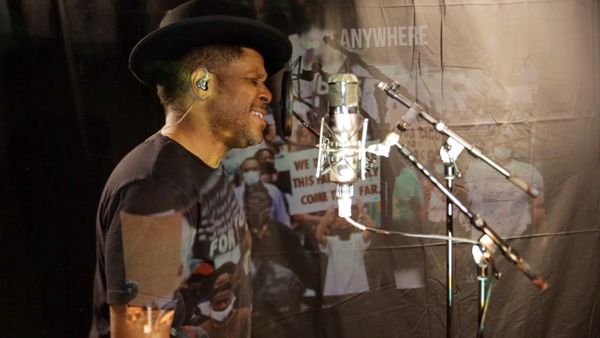 "The intention is for people to put an end to excuses and go to the polls," explains its author, who has mixed historical images and a song with new meaning.
Oct. 26, 2020, 5:15 PM EDT / posted Oct. 27, 2020, 12:25 PM EDT / Fuente: Telemundo 
By María Peña 
WASHINGTON.— Singer Freedom Bremner was fed up with watching news about police brutality against unarmed African Americans and, along with Hispanic artists who make up his band, released a music video for Latinos and African Americans to "rock their butts" and go to the polls. . Together with guitarist Jameison Ledonio, Bremner published the Stand 2020 music video on the YouTube social network, which mixes color and black and white images of the most emblematic moments of the fight for civil rights in the United States, and of global protests for human rights, as well as several African-Americans killed by the police. 
The images include not only Martin Luther King Jr., a leader of the civil rights movement of the 1960s, but also recent victims of police brutality and renowned athletes who have protested "systemic racism" in the country. 
The four and a half minute video, featuring Hispanics Brian Collazo and Jay Vargas, is a reinterpretation of Stand, made in 1969 by musician Sly Stone, and uses a pun to ask people to "get up." for their rights, either in person in front of a ballot box at a voting center, or in front of a ballot box. 
LINK: 
In a telephone interview with Noticias Telemundo, Bremner said this Monday that the video's only mission is to "activate people to go out and vote," and serve as a reminder and tribute to those who paid with their lives for the right to vote and social advancement of minorities in this country. 
"The intention is that people shake their butts, put an end to excuses and go to the polls," said Bremner, who has more than 20 years of professional career. His goal is for the video to get one million views by November 3, the day of the presidential and legislative elections. 
"We have this long tradition of protest, from abolitionists to fighting for the vote of women, the civil rights of African Americans, the rights of the disabled, of Latinos, of homosexuals," he explained, "we have this tradition of unite when we know that things are not going well, to improve them. " 
"Other artists saw our preliminary work and offered to help, free of charge, and that's how the project grew," continued Bremner, who has collaborated with Hispanic artists at international festivals and has millions of followers in Mexico, Argentina, Colombia, and Spain. 
Bremner described his video as a condensed version of that of We Are the World, produced by Michael Jackson and Lionel Richie in 1985, which featured multiple artists and mobilized public opinion to donate funds against hunger in Africa. 
Produced by Urban Herd Media and Rick St. Hilaire - winner of two Grammy Awards - Bremner's video has not only grown in popularity on YouTube, where it receives an average of 8,000 views a day, but has also launched an album production. which will include that song and five other songs. 
Latinos and African Americans now make up just over 26% of the US electorate, according to data from the Pew Research Center, and national polls show the majority opting for the Democratic Party. However, the president, Donald Trump, has managed to scratch votes among both minorities, particularly from men. 
Bremner is on the long list of artists who in recent weeks have joined campaigns to mobilize the vote of Hispanics, women, youth and other minorities. 
In addition to conducting voter registration operations, several civic groups, including Voto Latino, Color of Change, and Rock the Vote, have 
forged alliances or launched initiatives with record companies to mobilize the vote. 
According to Voto Latino, its volunteers have already managed to register almost 600,000 additional voters for this electoral cycle, and their goal is to mobilize more than 3.7 million people. 
The initiative with the Sony Music Group company has the participation of renowned international artists, including Shakira, Camila Cabello, Celine Dion, Gloria Estefan, and Becky G, who has recorded a podcast with the Democratic vice presidential candidate, Kamala Harris. 
The list of Latin artists who have made prerecorded messages also includes the Mexican rock group, Maná, the norteña music group, Los Tigres del Norte, and regional Mexican music singers Alejandro Fernández and Cristián Nodal, among others.