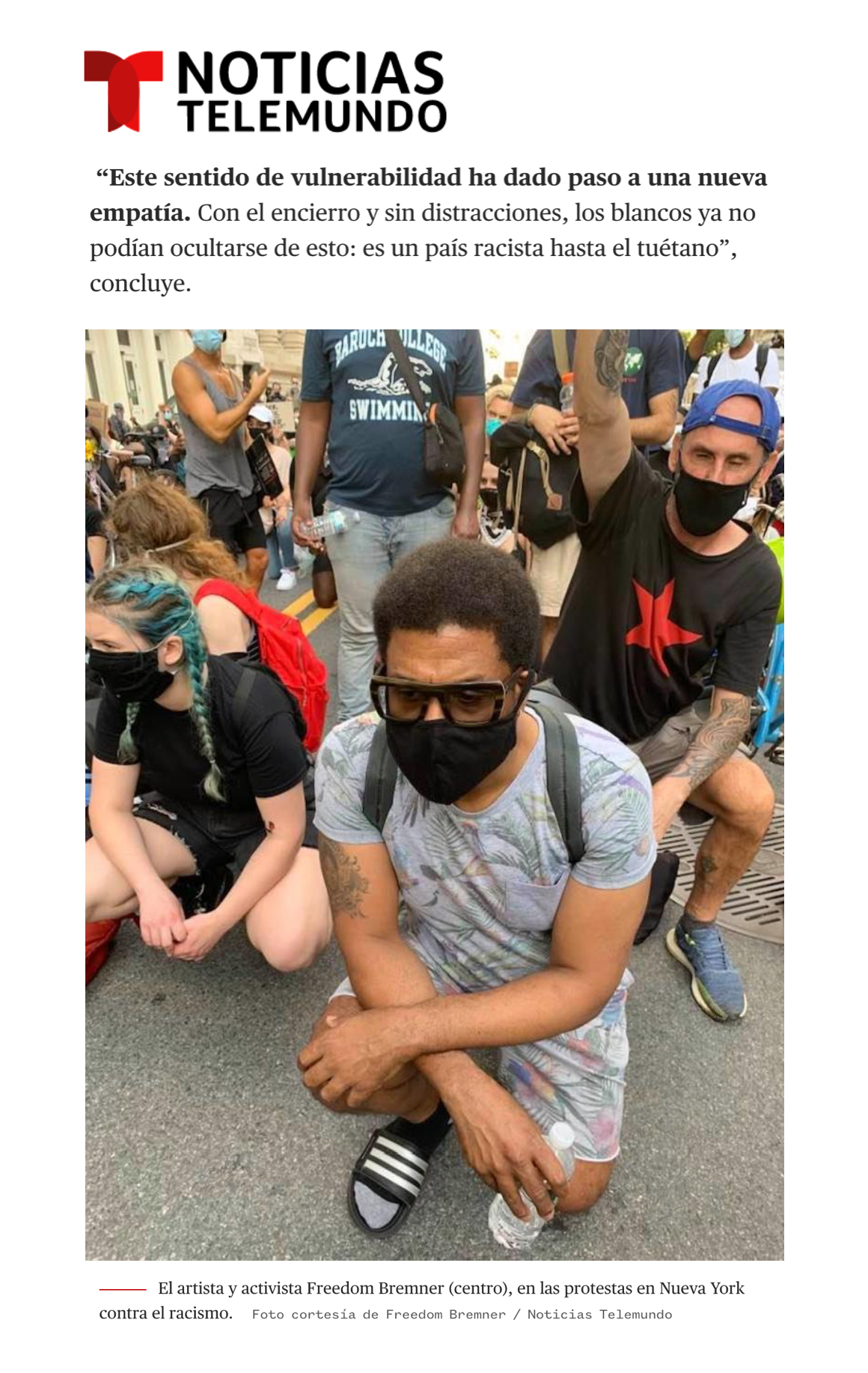 TRANALATED FROM THE ORIGINAL ARTICLE FROM TELEMUNDO.COM
These young women organized the protest that surrounded Trump in the White House. Now planning the next step against racism. 
WASHINGTON.— After weeks of mass protests across the country against police brutality, black and minority activists are beginning to put up their colorful posters and megaphones to craft a long-term strategy to crack the "systemic racism" that they say has weighed down on United States for centuries. 
The civil rights movement in the 1960s was hatched amid bloody protests but in many cases encountered a political blockade. The Rev. Martin Luther King Jr. paid with his life for his militancy, and his iconic speech for racial equity remains an unfinished business. 
"He is going to change the world," said one of George Floyd's brothers, asphyxiated by a white cop May 25 in Minneapolis, Minnesota, during his funeral. But is the world, or at least the United States, ready for that change? 
In Washington, more than 40,000 protesters gathered to demand it on the streets last weekend; Guarded by military trucks, National Guard soldiers, and even Border Patrol agents, they demanded not only racial equality or an end to police brutality, but also judicial reform and more investment in education, employment, health, and housing. 
On the street leading to the White House, they painted the slogan "Black Lives Matter" (black lives matter), while authorities raised a metal fence around the presidential mansion. That gate, which is now beginning to be dismantled, became a memorial covered in flowers, flags and posters honoring the victims of police brutality. 
President Donald Trump, who ordered the militarization of the capital, has taken refuge in a message of "law and order", ignoring racial injustice or 
a call for national reconciliation, and even defending police brutality with false conspiracies. Meanwhile, his support in the polls plummets. 
Posters on the metal bars of the White House on June 7. AFP via Getty Images 
In front of the military, metal fences and bunkers, Trump this time faced a group of seven young people who, in a matter of a few days, collaborated to help organize the massive protest in Washington. 
"It all started with an invitation on Twitter to go to the protests; We never imagined that we were going to create an organization and continue to grow, "explains one of them, Kerrigan Williams, 22. 
This graduate student at Georgetown University, originally from Houston, Texas, helped found the Freedom Fighters DC group - one of the groups that fueled the rally - and now outlines strategies for the next phase of activism. 
"We demand that no more money be given to the police and that no more prisons be built. We want to focus on local actions, in our own backyard, because that can unleash a chain on a national level, "he explains to Noticias Telemundo. 
Jasmín Barrios, a third-year student at Howard University in the capital, joined Williams in organizing the protests because, he said, police brutality also rages on Latinos, and is "a fight for everyone." 
"I would like to see the Latino community in the protests; if they are afraid, they can donate money, they can also read books, and young people can educate their families, "says Barrios, 24, the daughter of Guatemalan  immigrants. 
For artist Freedom Brenner, the coronavirus pandemic cleared his calendar and drained his income, but outrage at Floyd's death outweighed the caution and quarantine he kept at his home in Newark, New Jersey, and he joined the protests. In New York. 
"I absolutely think this is something different. I am inspired and optimistic like never before in my 52 years of life, even with the election of Barack Obama, which was already a great victory, "says Bremner, who describes systemic racism as" an invisible knee on the neck of African-Americans " . 
"I think the pandemic has left many whites unemployed, in debt, and without the support of a social safety net, and perhaps for the first time that makes them think that the system doesn't work for anyone," adds Bremner. 
"This sense of vulnerability has given way to a new empathy. With the confinement and without distractions, the whites could no longer hide from this: it is a racist country to the marrow, "he concludes. 
Rosalyn D. Lake-Montero, an Afro-Latino teacher in Washington, agrees on that call for the joint mobilization of all minorities, and highlights: "George Floyd had done nothing wrong. It's a sad reality that even if you do the right thing, you can still end up lynched or dead. " 
The immediate goal of activists from the Black Lives Matter movement and other civic groups is to achieve police reform that, among other elements, prohibits certain tactics and eliminates the immunity of officers. 
In the long term, however, they seek to mobilize the minority vote for the November 3 elections, and maintain pressure at all levels of government for measures that close the socioeconomic gap between ethnic groups. 
Their work is beginning to bear fruit: Democrats are already promoting ambitious police reform in Congress, though they don't have the backing of Republicans, who control the Senate, as the White House draws up its own  proposal. Other cities and states also push for police reforms. 
The Black Lives Matter movement and the Freedom Fighters DC demand to cut the funds to the police and prisons, and to channel them into community projects. 
In 2017, global spending for policing across the country totaled $ 115 billion, or 4% of local and state budgets, according to an analysis by the Urban Institute. 
African Americans make up 12% of the population but make up 38% of the prison population, according to the Federal Bureau of Prisons. They also tend to receive longer sentences than whites for minor crimes. 
The Movement for Black Lives coalition, created in 2016, promotes a six-point plan to improve the education, health, and safety of African Americans, "instead of investments that criminalize, cage, and harm black people." 
The movement also has room for white people who, with their silence, can be complicit in institutional racism, according to Robin DiAngelo, author and professor at the University of Washington. 
"African Americans understand racism in a way that whites can never. Racism is the basis of our society, and to continue without actively interrupting that system is to be its accomplice, "DiAngelo explained to the public radio station NPR. 
"The status quo of this society is racism," she added, "it is comfortable for me as a white woman to live in a racist society, but we must start working so that it is no longer racist."